TP
"Someone from your post died in Iraq this week, but he was someone from another unit," Mom said after dinner. "Oh. Who was it?" I asked from the other room. "Someone named SGT Tyler Prewitt."
TP.
SGT Prewitt first emailed me from Iraq in June, to ask for help with getting a transcript. We wrote back and forth a couple of times to get all of his education records straight, so when he decided to register for online classes in August, he contacted me again. He had just emailed me because he was worried he was too busy soldiering to concentrate on the class. Ten days before that RPG.
His emails were always signed TP.
His memorial is Tuesday, and I plan on going. I wonder if his family could ever imagine that his school representative, someone he barely knew, is weeping.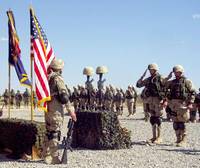 MORE TO GROK:
Here's my first chance to see TP's face. Surprisingly enough, that's exactly what I had imagined.
Posted by Sarah at October 2, 2004 09:12 PM