ITALY
In a normal week, I drive perhaps 15 or 20 miles. This week I drove 1300. In a normal week, I do three things: work, knit, and blog. This week I didn't do any of those activities. It was a week of doing things that were out of the ordinary.
I painted my fingernails. That may not seem so exciting, but I realized that I hadn't made the time to do that small task in nearly a year. I read 500 pages of my book. I worked obsessively on this puzzle. I went to see this man. I bought a set of these. And when I walked out of our residenza, this is what I saw.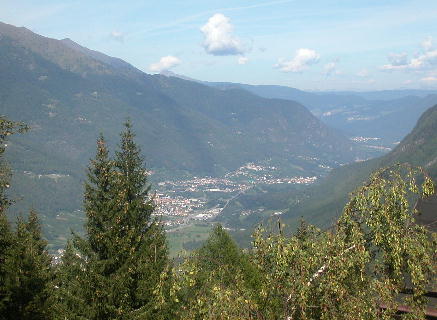 We went to a ski resort in September. There was no snow, there were no people, and there was nothing pressing to do. The resort owner seemed embarrassed and apologetic that we had come at such a boring time, but it was exactly what I wanted. For me, a true vacation is about doing nothing. I did a lot of nothing this week; it was wonderful.
Posted by Sarah at September 26, 2004 08:41 AM