CPT PATTI
Tim mis-labeled his blog when he called CPT Patti the "sweetest woman on the planet"; he should have called her the sweetest and best smelling woman on the planet. I don't know if she's taken a billion showers after leaving Iraq, but the first thing I noticed about her was how downright delicious she smelled. And then it was her radiant smile.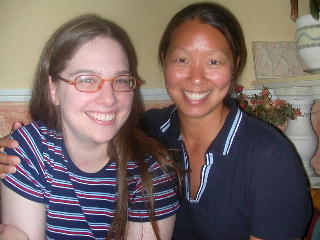 Tim and CPT Patti stopped here on their way home from leave in Italy. I originally thought nothing could've been nicer than my trip to Frankfurt to meet Tim, but the addition of Patti was nothing short of heavenly. She was personable and interesting and genuine and just plain great. And of course Tim was the Tim we know and love. They were just excellent together, and it was the best lunch I've had in a long time. I could've talked to them for two days instead of two hours, and I'm humbled that they drove out of the way just to see me.
And I told Tim that if he ever gets the itch, he's welcome to write a guest post here whenever he wants.
Posted by Sarah at August 16, 2004 05:31 PM