WEDDING
Carla wanted me to talk about my wedding. It was really pretty standard, I would say. We got married outside in my parents' backyard in Illinois. It was raining that morning, which made us all quite nervous, but by the afternoon it was perfect weather. We wanted the wedding to be more like a cook-out than a formal event, and I think it turned out pretty perfect.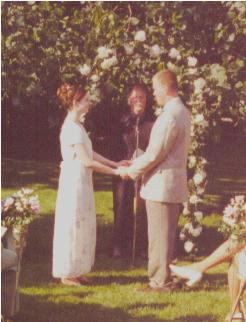 The honeymoon was what was a real hoot, though. Because of scheduling problems that came up after 9/11, my husband was told a few weeks before graduation that he couldn't start active duty right away. We started our marriage with four months where neither of us was getting a paycheck. We paid for our plane tickets and hotel for a week in Washington D.C., and after that we were a little strapped for cash. I was actually just laughing about this the other day because as I was looking back through my planner, I saw all the notes in the calendar for the week of our honeymoon: I had kept track of every dollar we spent. There are notations like "$2 = bomb pops" and "$5 = lunch, hot dogs" that crack me up. We kept track of every cent we spent because we really started out with nothing. We've done well for ourselves, considering, and we don't ever plan to budget bomb pops again.
Those little notations are one of the best memories I have of getting married.
Posted by Sarah at June 15, 2004 10:06 PM