HERO
CavX wrote about three military heroes. I had read the first two stories, but I had not yet read the last one. I'm completely overwhelmed by CPL Dunham...
None of the other Marines saw exactly what Cpl. Dunham did, or even saw the grenade. But they believe Cpl. Dunham spotted the grenade — prompting his warning cry — and, when it rolled loose, placed his helmet and body on top of it to protect his squadmates.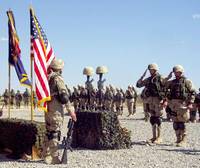 I can't even think of anything to say.
Posted by Sarah at June 2, 2004 10:28 PM