MEMORIAL
This morning I went to the Memorial Day ceremony on post. The turnout was smaller than I wanted, but bigger than I'd hoped. I was fortunate to talk to a WWII and Korean War vet who had many interesting stories to tell from what he called "ancient history" and who had no idea that he was a hero. There was also a handful of elderly German soldiers there, which was really touching.
Time for a round-up of good stories to read today:
Veteran recalls horrors of Bataan Death March
World War II memorial prompts veterans to recall days of fear, heroism
'Greatest Generation' gets its due as World War II Memorial is dedicated
Dedication a reunion for veterans
Teen's efforts ID vets' graves
Plus the wonderful Mark Steyn, via Hud:
Recalling a time when setbacks didn't deter us
And one by Jack Neely, via Instapundit:
The Other World War
Please remember that today isn't just about picnics. We do need to rejoice and be thankful for the freedom and life that we have, but we should always remember the price that was paid.
James Hudnall has posted photos of his grandfather and uncles, who were veterans. I have a similar photo that I would like to post. I have relatives who were veterans -- my great uncle, and two of my great-great uncles -- but they passed away long before I knew of them. I'm very grateful that I don't actually know any veterans who have passed away, but I do know one very special vet whom I'm fortunate enough to still have in my life. The more I educated I become about the military and history, the more pride I feel for my grandfather's service. In fact, I was in his home last spring when Operation Iraqi Freedom began, and I felt the amazing juxtaposition between the war being fought on the TV and the war that he had fought so long ago. I'm so proud to call him grandfather, and I hope my grandchildren are half as proud of my husband someday.
I hope my grandfather knows how important he is to me, today and every day.
Meet my grandfather, the most handsome airman in WWII.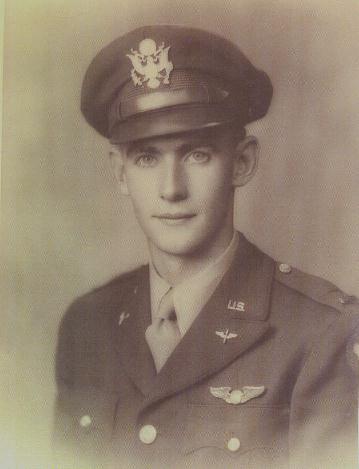 MORE TO GROK:
If you have the time, peruse all of the Milblogs links today. They're all unique, but they all share the common thread of Memorials.
Posted by Sarah at May 31, 2004 10:44 AM